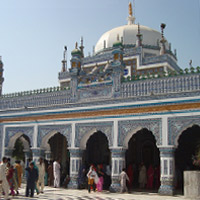 Shah Abdul Latif, a great scholar, saint and spiritual poet, was born in Hala Haveli near the Khatiyan village of Hyderabad District, Sindh in 1689. His ancestral roots lay in Afghanistan. It is said that the Shah's father, Syed Habib Shah, had migrated from Matyaru, his ancestral home in Afghanistan to Bhainpur in Sindh, in order to gain spiritual contact with Bilawal, a local pious man.
Abdul Latif received his early education from a Madrasa run by Akhund Noor M. Bhatti. He was proficient in the knowledge of Quran and the traditions. He always carried with him copies of the Quran, Masnavi Maulana Room, and Risalo of his great grand father Shah Abdul Karim of Burli. The poet excelled in the Sindhi language. He was also proficient in the Persian, Sanskrit, Saraiki, Urdu and Baluchi languages.
Shah was a missionary and believed in practical learning. It is through his journeys that he acquired the background for most of his poems. He denounced extravagance, injustice and exploitation in all forms and at all levels, and praised simplicity and hospitality. His spiritual and mystic poetry carries a message of love and universality of the human race.
In 1713, the Sufi poet married Bibi Saidha Begum. It was a love marriage. His wife died at an early age, before she could have any children. Shah never married again.
In 1742, Shah Abdul Latif decided to settle in Bhit, meaning "The Sandy Mound". Having a great passion for music, one day he ordered the musicians to play music. They played continuously for three days. When they stopped playing from pure exhaustion, they found the poet dead. He died in 1752, and is buried in Bhit. A mausoleum was later constructed there.
Before his death, fearing that people might ignore his poetry, he destroyed all his writings by throwing them in the Kiran Lake. But at the request of one of his disciples, the sufi poet asked his servant, Mai Naimat, who had memorized most of his verses, to rewrite them. The message was duly recorded and compiled. A copy of the compilation known as "Ganj" was retained at the mausoleum. The original copy disappeared sometime in 1854. It was in 1866, 114 years after the poet's death, that Ernest Trumpp, a German scholar who knew Sindhi as well as many other languages, compiled "Risalo", a complete collection of Shah Abdul Latif's poetry, along with two other Sindhi scholars.
Shah Abdul Latif Bhitai is always remembered for his great poetry with love and reverence.